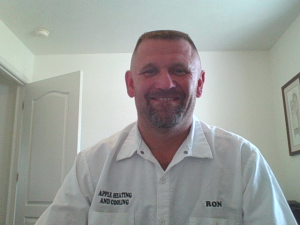 Ron Apple is an HVAC Service Tech / Installer with more than 20 years of experience. He has been awarded & recognized for Good Character Qualities such as Decisiveness, Thoroughness, Enthusiasm, Alertness, Boldness, Virtue, Culture. With a Contractors License, Journeyman HVAC, Specialty Plumbing License, Universal Freon License, and Gasflex Certification.
He has also completed courses for Heat Exchanger Examination, Combustion Program NCI, American Standard Courses on Sales, Service, Asset Training and Accessory Dynamics, International Service Leadership Program, HVAC Learning Solutions, Nexstar Service Manager & Sales School.
In his free time Ron enjoys working on projects with my honey, BBQ's and likes to entertain people. He enjoys the outdoors, water, seeing and experiencing new things, and decorating for Halloween.
Be sure to see our latest news and specials by liking our Facebook page!