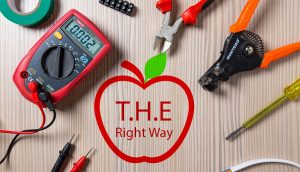 We do things T.H.E Right Way!
What does that mean?
T.horoughness H.onesty E.ducation – Right Way!
We specialize in service, repairs and replacement of: air conditioning units; gas, electric, and oil furnaces, state required safety checks; air to air and water source heat pumps; water heaters; gas fireplaces; dryer vent cleaning; and attic fans.
We make sure to build Thoroughness Honesty and Education into every job we do by paying attention to details, speaking truthfully about what is needed, and teaching our customers about what we do so they can understand.
We are Licensed, Bonded, and Insured!
Our vans are equipped with one of the valley's largest inventories!
This means that repairs and replacements can typically be done the same day.
Want to know more about our qualifications? Take a look at our accreditation list and accolades!